Training Calls
How to Generate Your Own Custom Leads
We recently launched an exciting new product called Clicks to Your Page that can help you generate your very own custom and exclusive leads. This call will teach you how to pick the right landing page, and find out if these will work for your business opportunity.
Learn how to generate leads that..
have heard about YOUR specific business
will know who you are with you call
are 100% exclusive and not shared with another business owner
Watch Our Recorded Webinar Training: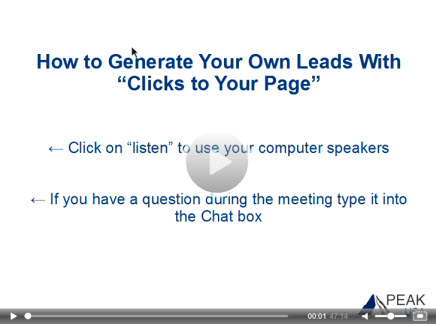 Direct Link: http://peakusa.enterthemeeting.com/e/mtg?WM5Z73
Beginners Guide to Using Leads Training Call
This class will teach you the essential basics of using leads to build your business. Topics include explanations of different lead types, how to identify high quality lead sources, computer techniques for managing lead data, and more.
Topics Included:
Detailed explanation of different types of leads.
How to select the right leads for your business.
How to manage your lead data.
Software that can help you get better results.
Effective marketing techniques.
To listen to this recorded call please click here.
Training Call Testimonials
I had the opportunity to join the webinar for beginner's guide using leads. I was so impressed by the presentation I took three pages of notes. I wish I would have known about HBB leads last year when I joined the MLM I am currently with. I can't wait to place my order for the bundle pack and start practicing my lead calls to grow my organization.

Thank you so much for the coupon for attending the seminar.

Kelly W.

Thank you soooo much for a great training call. This really gave me so much more confidence. I'll be going to see my partner in a couple of weeks and we plan on devoting our time to using your scripts and making calls!!!

Kristi K.

I really enjoyed your teleclass on 1/18/2012. It was the best that I have ever heard on using leads to build a business.

Lynne B.

Hi brooke how are you? your call was awesome, you gave out more info than i had anticipated. I really appreciate this valuable info and would like to know the time for your next event, i missed the first half of the teleconference. I am interested in your TRAINING, script for phone leads, and your 20 free QUALITY LEADS. THANK YOU FOR SUCH A GREAT CALL!!!!!!!!!!

Veronica from NY